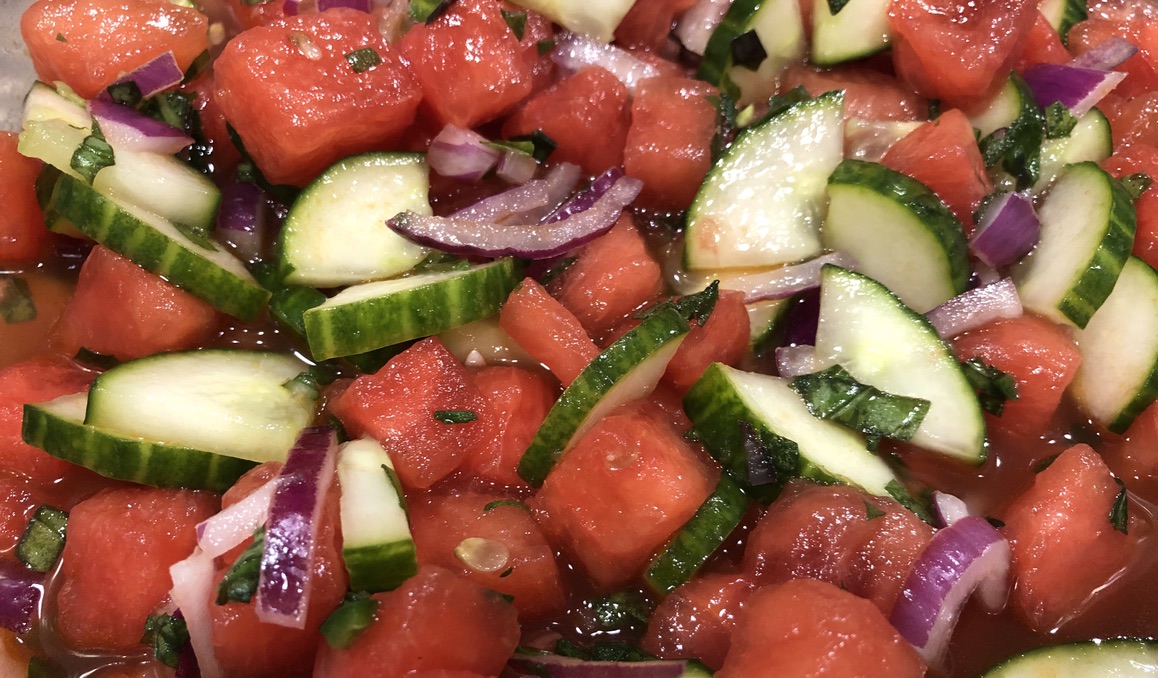 This refreshing summer salad works great for any Barbecue. We like to use Mint Balsamic but almost any Balsamic will work.
Don't skimp on the fresh herbs, the more the better! Fresh Basil, Mint and Cilantro are easy choices but to truly elevate this simple salad try also including Lemon Verbena, Tarragon or any other fresh herbs you have on hand.
Ingredients:
1 Seedless Watermelon cut into 1″ cubes
1 Red Onion thinly sliced
1 English Cucumber thinly sliced into bite sized pieces
1 Jalapeno Pepper finely chopped
Handful of fresh herbs coarsely chopped. (Basil, Mint or any combination that you prefer)
1/4 Cup White Balsamic Vinegar (Suggestions: Mojito White Balsamic or Lemon White Balsamic)
Salt and Pepper to Taste
Instructions:
Mix Watermelon, Onion, Cucumber, Jalapeno, Herbs, Salt & Pepper and Olive Oil in a non reactive bowl and stir to combine.
Add Balsamic and stir again.
Cover and let sit in a refrigerator for at least 2 hours
** Serve the same day, Watermelon tends to break down with Balsamic after a day or 2.